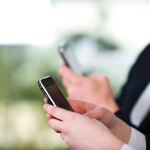 There's been a lot of talk lately about Bringing Your Own Device (BYOD) to work. It's not a new concept. People love their smartphones, tablets, or laptops. They prefer using a particular brand for personal and work. They bring it to work because it's convenient to carry just one device, and they can be productive with their own.
Traditionally, companies provide their own "certified" devices to retrieve secured Enterprise data. However, it's difficult to stop employees from transmitting those data somewhere else, either via E-mail, USB drives, or Cloud Storage, potentially enabling others to see them. A strong privacy policy may be enough deterrent – at least in the beginning. As time goes by, employees will get complacent and too comfortable in taking their data everywhere, not realizing the confidential data may be leaked.
As an IT leader, one can imagine the complexity of supporting multiple devices and worries about zero control over securing protected data. Case in point, the biggest early adopter of BYOD was IBM. They learned valuable (and painful) lessons from it. Employees were not aware of insecure apps, not using secure channels to transmit data, and losing their unprotected/unencrypted devices. These security breaches could potentially cost them, or anyone else for that matter, millions of dollars to repair.
So, why is there growing trend to adopt BYOD? In this tough economic condition, company expenses have to be cut aggressively. The most obvious is to stop allocating budget for productivity machines. Having the cost shifted to the employees, it eliminates the need for company's machines to be stocked, upgraded, and re-stocked.
Employees have also voiced their concern about the lack of productivity using company issued devices, such as a Blackberry, instead of their favorite iPhone or Android phones. It doesn't make any sense to have a dedicated, company issued, device just to receive e-mails or phone calls for work, and another for personal use. It certainly becomes challenging to carry two devices, especially when an iPhone, for example, is more than enough to handle all of those tasks and be just as productive.
IT leaders are starting to embrace this BYOD trend because solutions are starting to appear, as the concept become widely accepted. Android and iPhone devices are now equipped with additional security to deter data theft or loss. Both Google and Apple are serious about Enterprise adoption and have updated their OS to be more secure. Now, it's up to the IT leaders to trickle down the information to users on how to secure their devices, according to the companies' need. Instead of preventing employees to bring their own devices, educate them on how to secure the content of their own devices. As Ronald Reagan would say: "Trust, but verify." There is a level of trust on both sides, but both must remain vigilant.
It is time to stop believing the myths of bringing-your-own-device to work. BYOD is happening, whether or not IT is ready. It is the "new normal".