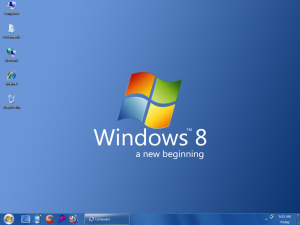 Predictions are in already: Windows 8 will be irrelevant. The clues seem to support the suspicion – the masses are already happy with Windows 7. Enterprise already made a substantial investment upgrading to Windows 7. Another migration in 2012 is just too soon.
But putting all that aside, the PC manufacturers need to support Windows 8 because it's the platform that will finally bring integration of desktop PCs with Tablets1 – especially in an Enterprise environment. There's also a good list of new features that will ensure some to upgrade. Plus, there are millions of new PCs and Laptops to sell, every year.
Windows 8 is still relevant and it will save the PC business.
As demonstrated in Microsoft's Build Conference 2011 [↩]